About Winnwood Baptist Church
Welcome
We want to be more than just a church, more than just a building where people come to fulfill a Sunday obligation.  We want to be family–a caring, sharing, extended family whose members offer love, patience, and support to one another.  We want to fill the void in people's lives who wish to reach out to others but who are afraid or unsure of how to do so.  Winnwood is dedicated to succeeding in this area.
Our Purpose
WBC Exists to Expand God's Kingdom by... 
Focusing on God (Worship)
Developing Believers (Discipleship)
Proclaiming Biblical Truth (Education)
Impacting The World Around Us (Missions)
We are also committed to strengthening individual families–the home–which we feel is the foundation of our society.  We encourage and challenge one another to become all that God wants us to be.  We want to create a place where we can serve the Lord and others in a warm, caring fellowship; a place where worship and Bible study are enjoyable and meaningful to all ages.
Spiritual growth at Winnwood comes from the practical teaching of Biblical precepts, the spontaneity of worship services as well as the fun, laughter and joy of our family atmosphere.
We are confident that a meaningful relationship with God and others through Jesus Christ is the only answer to the world's problems.  We believe it is also the greatest, most meaningful and fulfilling way to live.
History
Winnwood Baptist Church was formed on May 3, 1925. A contingent of Baptists from Second Baptist Church of Liberty, Missouri, saw the need for a church in the Winnwood Beach and lake area northeast of Kansas City, Missouri.

Winnwood Beach was the entrepreneurial dream of an area hog farmer, Frank Winn, who envisioned a water playground and constructed such on three small lakes comprising 150 acres. Winnwood Beach provided swimming, a boardwalk, a three-story bath house, water wheels and slides, two roller coasters, a fun house, a petting zoo, monkey island, and an over-the-water dance pavilion. The interurban electric train system from Kansas City to Liberty passed by Winnwood Beach and provided a direct link for thousands to enjoy the water recreation area. Numerous people began to purchase lots and construct weekend cottages in what is now the Winnwood-Sunnybrooke Community.

Winnwood Baptist Church has enjoyed a fruitful seventy-four years of ministry. Three pastors have provided leadership during the past 57 years: T.J. Smith pastored from 1942 until his death in 1964. Harland K. Ginn came to pastor in 1965 and served until his retirement in 1991. Douglas Crabb came to pastor in 1992 and attended to the needs of Winnwood for nine years. Lengthy pastorates have provided a sense of stability for the congregation that has brought with it many benefits.

Winnwood experienced continued progress while in a pastoral search from 2001 to 2002. Former Winnwood pastor Harland K. Ginn was called once again to serve, but this time as the interim minister. After approximately one year of searching, Winnwood warmly welcomed Reverend Tony Colburn and his family on September 15, 2002.

Values

We value Bible-centered preaching and teaching.

We value servant leadership that follows Christ's example of leading by serving others.

We value inspiring worship that encourages all people to draw near to God in praise, prayer and commitment.

We value Bible study for all ages which introduces people to Christ and equips Christians to follow Christ in all areas of life.

We value sharing the Gospel through missions and personal evangelism with all people in our community and around the world.

We value the fellowship and sense of community created by our common bond of faith in Christ.

We value a strong lay ministry that offers opportunities for Christians to serve, having been equipped to do so by the church's staff and leaders.

Beliefs

Our basic beliefs are closely tied to the 1963 Baptist Faith and Message confessional document of the Southern Baptist Convention.
Service Times
Sunday Morning

8:30 AM  Traditional Worship
9:45 AM  Sunday School for all ages
11:00 AM Contemporary Worship Nursery & Preschool available at both worship services (birth-pre-k)
11:00 AM Children's Worship (kg-grade 3)

Wednesday

6:45 PM Adult Bible Study/Prayer meeting (East Hall)
6:30 PM Winnwood Student Ministries (Upper Rooms)
6:45 PM Children's Choirs (pre-k-grade 5)(East Hall)
7:15 PM Mission Friends/RA/GA (pre-k-grade 5)
Directions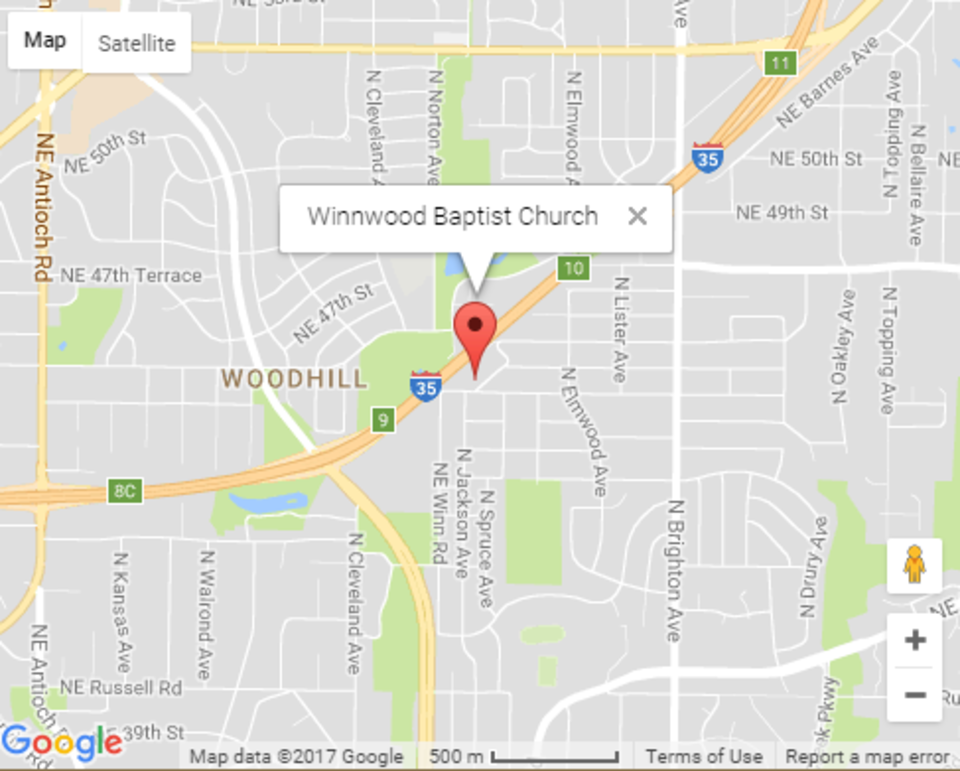 Winnwood Baptist Church

4513 N. Jackson Avenue

Kansas City, MO 64117

(816) 453-4500

From the north-South on I-35 to the Chouteau exit.  South on Chouteau to 42nd Terrace.  East on 42nd Terrace to N. Jackson. North on Jackson to WBC.

From the south- North on I-35 to the Chouteau exit. South on Chouteau to 42nd Terrace.  East on 42nd Terrace to N. Jackson. North on Jackson to WBC.